The Incontrol Infotainment System: Entertainment for all to Enjoy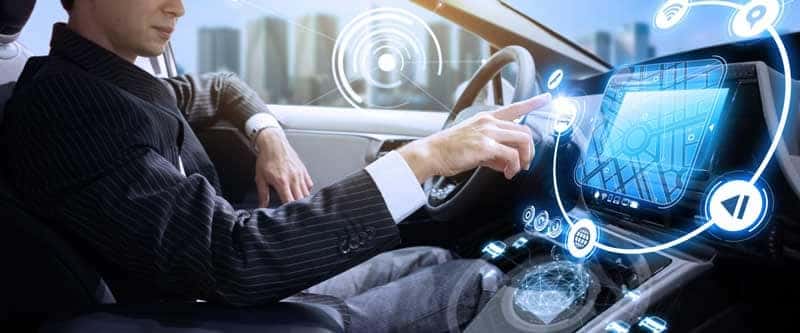 In 2018, Land Rover sold 592,708 vehicles. What makes Land Rovers a beloved vehicle? They're traditional and put safety at the forefront. But Land Rover is also under innovation.
One of the core examples is infotainment. Land Rover is taking its best entertainment features and optimizing them for smartphone-efficient drivers and passengers.
These features aren't only limited to entertainment. They also help you save mileage and assist with other functions such as navigation.
Are you thinking about buying a Land Rover this year? You'll want to know all of the great infotainment features. Here's everything you need to know and how to utilize your smartphone for these features.
Incontrol Options
In order to use your infotainment system, it's important to understand the incontrol touch options. These options include:
Touch
The classic multimedia and navigation system. It features an eight-inch touchscreen and is optimized for both touch and swipe controls.
Touch Pro
Taking Touch down a more innovative route. This screen is larger than the original Touch, at 10 inches. It's responsive for touch and swipe.
If you want a closer look at something on the screen, for example, a map, all you have to do is pinch to zoom. You can use Touch Pro for maps but also for media and other settings.
For safer driving, Touch Pro is optimized for voice commands.
Touch Pro Duo
This is Land Rover's latest system. The Duo comes from the two 10-inch screens available. Both screens are high-definition and easy to read and use for both drivers and passengers.
You can use a variety of functions on the Touch Pro such as media and maps.
Infotainment System Features
What's so great about infotainment? The secret comes from a long list of features. Here are some of the features you should know.
Meridian Sound Systems
Two-thirds of drivers listen to music while they're driving. And the vast majority of these drivers want quality sound for their commuting tunes. Land Rover understands this and optimizes its sound system for Meridian sound.
Meridian is the best-in-class audio sound system, specifically for cars.
Their secret comes from the experience of all passengers; not only the driver and front-seat passenger, but passengers in all seats experience exceptional sound quality.
Navigation Pro
Navigation Pro is more than just a GPS routing system. It's a smart navigational system that automatically knows your common driving routes and information on these routes.
Navigation Pro also updates you on traffic and your ETA, no matter where you're driving.
Interactive Driver Display
While everyone loves media and entertainment features, drivers want to know the best way to conserve their mileage and gas. To ease this process, new Land Rover vehicles feature an interactive display for drivers.
The display is a 12.3-inch display that offers safety and data and driving information. You can easily view key information such as your gear position, speed, and navigational directions.
You can also control media right on the display instead of looking over at the center display.
Improved Graphics
All displays for the driver and passengers can experience overall improved graphics. These graphics are high-resolution and are available in full color. This improves visibility and is easier to read and see.
Digital TV
Want to entertain your passengers for a long drive? New Land Rovers feature a digital TV. Passengers can enjoy their favorite TV shows in both the front cabin and rear seats.
Online Media
Not satisfied with TV? Your passengers can stream other media directly from their phones. The Online Media feature links to TuneIn and Deezer Premium accounts.
This means you can access the radio, your music, and even your favorite podcasts without using your phone.
DAB Radio
Another interactive audio feature is DAB radio. DAB radio offers a wide range of stations. The Meridian sound system boosts the sound quality so all passengers can enjoy the music.
DAB radio also offers information about the station and the song you're listening to.
Touch Steering Wheel Switches
Even the steering wheel switches are optimized for incontrol! Instead of reaching for any of the display screens, you can change commands conveniently on the steering wheel.
Some of the functions you have available include setting a destination, navigating the entertainment system, and even calling someone.
Dynamic Dials
Want more personalization for your features? This is where Dynamic Dials come in. They adapt to the feature you use for convenient changeability.
The secret comes from rotary control, changing various features such as cabin temperature.
Features By Model
While these are all great features, are they included in all Land Rover models? Here's what to expect for each model.
2019 Range Rover
The Range Rover is under lots of innovation; there's now a hybrid version available with a panoramic moonroof and cruise control. You can also hook up your Android Auto and Apple CarPlay.
2019 Range Rover Sport
The Range Rover Sport is similar to the classic Range Rover. You experience the Android Auto and Apple CarPlay, cruise control improvement, and a hybrid option.
2019 Range Rover Evoque
The Evoque is also optimized for Android Auto and Apple CarPlay as well as featuring redesigned wheels.
2019 Discovery
You'll experience the Duo Infotainment system on the 2019 Discovery. You'll also experience Android Auto and Apple CarPlay optimization, new steering wheel controls, and other equipment changes.
2019 Discovery Sport
The Sport includes the updated infotainment system with Android Auto and Apple CarPlay optimization.
Are You Looking for a Range Rover in Sarasota?
The 2019 Range Rover models are under serious innovation. One of the improvements that drivers will experience is the new infotainment system. The Touch Pro Duo offers two screens to control a myriad of features.
Are you looking for a new Range Rover with these features? Before you start car shopping, ensure you choose the best Land Rover dealer.
If you're in Sarasota, come visit our dealership. Contact us if you have any questions or need a recommendation.