The Discovery Sport is Running With the Dogs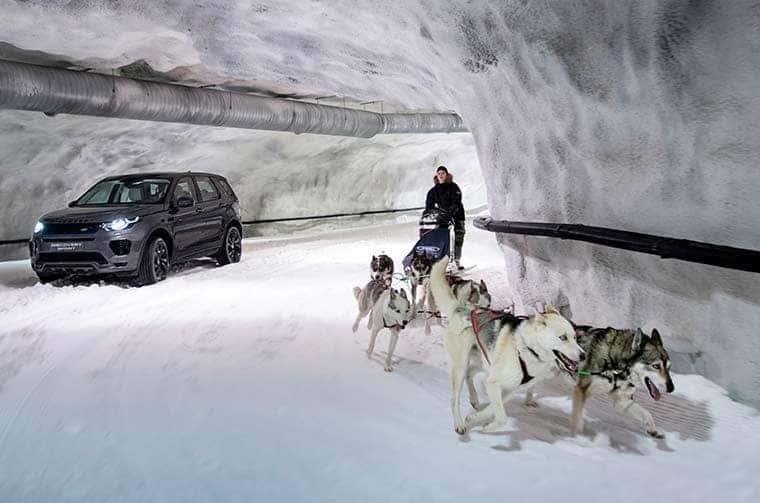 The Discovery Sport is Running With the Dogs! According to Land Rover, an estimated 50% of global Land Rover customers own or regularly travel with a dog. To put the Discovery Sport's canine capability to the test, Land Rover transported a team of huskies to the Vesileppis Ski Tunnel, an underground snow tunnel in Finland, for a unique training challenge ahead of the winter championships.
Finnish middle distance champion Laura Kääriäinen and her team of six sled dogs put up a stiff competition against the Discovery Sport SUV which featured a unique 1km sprint around the dedicated underground tunnel. The tunnel is carved into the bedrock 115-ft below ground level and kept at a constant 28.4°F to maintain a blanket of snow .8-in deep throughout the summer.
Land Rover explains the challenge in the official press release, "Setting off in opposite directions, the dogs had a straightforward task. Once they had negotiated the first incline they were able to pick up and maintain speed – typically around 22mph. In contrast, the path of the Discovery Sport was blocked by a set of ice blocks, which put its wheel articulation and traction control systems to the test, on one of its laps."
Driver Karl Richards, Lead Engineer for Stability Control Systems at Jaguar Land Rover, said, "Snow is one of the most demanding surfaces drivers will encounter during winter around the world and Discovery Sport proved to be as comfortable in these conditions as the dogs. Land Rover's advanced Terrain Response® technology and intelligent four-wheel drive system ensure our premium compact SUV is in a class of its own when it comes to off-road driving – whether you've got two legs or four."
Check out the full competition in the video below and see how The Discovery Sport is Running With the Dogs:
For more Wilde Land Rover news, Follow us on Twitter or Like us on Facebook.