On the Road to the Best Off-Road Trails in Florida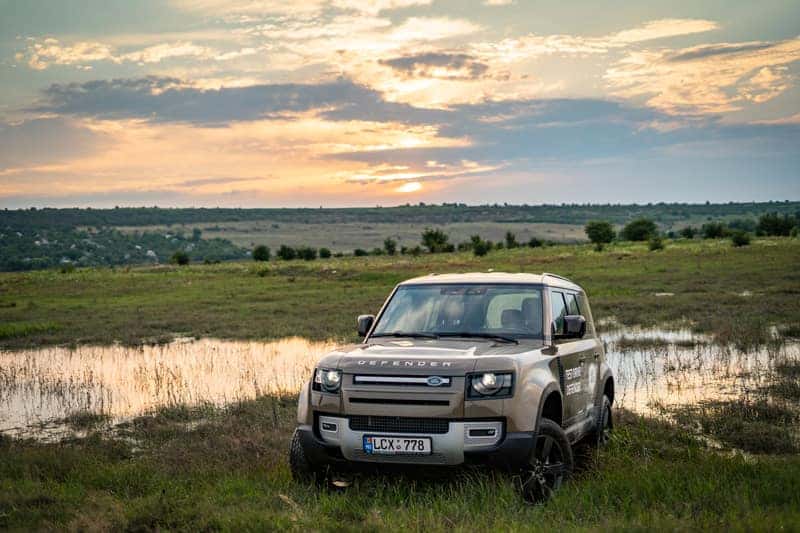 As every Floridian will proudly point out, the Sunshine State is much more than the sum of its spectacular beaches, iconic theme parks and endless variety of recreational opportunities.  No matter how esoteric your preferences, there is no end to Florida's leisure options, including an exceptional choice of venues to challenge your off-road driving skills.
Indeed, for the best off-road adventures under the sun, we recommend several destinations that dot the state's peninsula from the Florida-Georgia line to the South Florida Everglades.  So, lace up your boots, rev your engines; and experience off-roading Florida-style.  Along the way, be sure to enjoy the ambiance and attractions of Old Florida as you travel some of the scenic back roads and coastal byways that once brought flocks of snowbirds to the state before superhighways took over.
But first, a few words of advice:
Before you go:
Be sure to always consult the web sites for the venues listed here for up-to-date information—such as weather conditions, road closures and fire alerts—that could affect how you access the park and maneuver its roads.
Additionally, the COVID-19 pandemic has upended many of the standard operating rules, regulations and routines of virtually every park and recreation area in the State of Florida.  Thus, it is wise to visit online or phone ahead to familiarize yourself with the latest news, information, weather alerts; and specific COVID-19 protocols.
Although public access to many park offices has been temporarily suspended, all Florida State Forest recreation areas and trails are open to the public with limited capacity as the forest service continues to observe CDC safety guidelines for COVID-19.
To reduce the spread of COVID-19, all fees for day-use passes, annual passes, off-highway vehicle (OHV) passes, and camping reservations must be paid online.
To purchase passes or to make camping reservations, click here; or call 1-877-879-3859.
Heading south:
Beginning in north central Florida and moving down the peninsula, the terrain gradually shifts from dense pine forests and rolling hills to the coastal plains and cypress-hardened swamps of South Florida.  Along the way, the driving challenges also change to meet these new conditions.
Driving north to south, here are the best off-roading venues to look for:
Osceola National Forest
 24874 US Rte. 90, Sanderson, FL 32087   Phone: (386)752-2577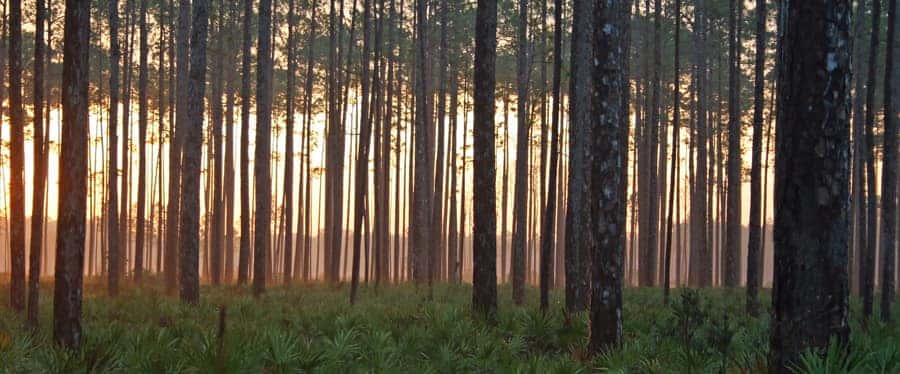 Approximately 50 miles west of Jacksonville, off I-10 between Lake City and Sanderson, the swamps and forests of Osceola National Forest set the scene for an off-road experience that unwinds along miles of old service roads.
Motorized vehicles are permitted on many of these roads, which are comprised mainly of hard-packed sand that wind through sun-dappled thickets of pine and saw palmetto.  In wet weather, however, they produce long stretches of waterlogged trails that up the excitement.  Happily, the packed sand found on most Florida off-road trails help prevent thick mud from spoiling the day's excursion.
Be sure to consult the park's web site for all you need to know about off-road access, park regulations, overnight accommodations; and other visitor experiences you might also enjoy—including hiking, camping, swimming, fishing and horseback riding.  Click here for the park's latest motor vehicle use map.
Ocala National Forest
17147 E. State Road 40, Silver Springs, FL 34488   Phone: (352)625-2520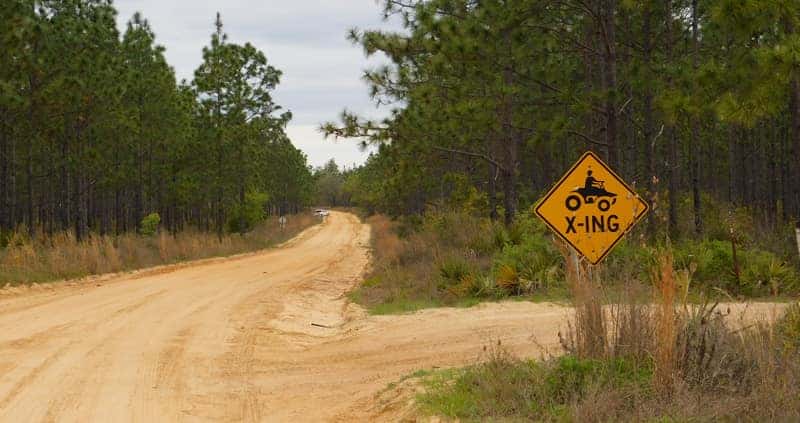 Continuing south, your next choice for off-roading in Florida is the Ocala National Forest.
Billed as Florida's top off-roading destination, Ocala National Forest hosts nearly 300 miles of ATV, motorcycle, and off-highway vehicle trails.   Its Tread Lightly! Four Wheel Drive Way is an 81-mile system of forest service roads reserved exclusively for licensed off-road vehicles, such as Range Rovers, pickup trucks, and high-clearance SUVs.  A Motor Vehicle Use Map explains road usage protocols.
The park's Lake Delancy West provides an OHV recreation area along Lake Delancy with OHV corrals, access to numerous marked trails along the Ocala North OHV Trail System; and camping along the lake. The recreation area also serves as a trailhead and designated campground along the Florida Trail (hiking-only).
Be prepared:
Much of the Ocala National Forest is remote, and in many areas cell phone reception is poor or non-existent; and emergency medical assistance may not be readily available. For these reasons, the park advises off-roaders to take adequate food, water, first-aid supplies; and other equipment appropriate for expected road conditions and weather.
An additional safeguard when off-roading in such vast expanses of wilderness is the Avenza Map app.  Should you suddenly find yourself uncertain about your exact location or where to turn next, the app enables you to consult maps on your mobile devices even where internet or network connections are not available.
The Avenza Maps app is available for free from Google Play and the Apple App Store. Upgrades to paid tiers for additional import capabilities and professional users are also available in the app.
Visit Avenzamaps.com for more information
Withlacoochee State Forest
15003 Broad Street, Brooksville, FL 34601   Phone: (352) 797-4140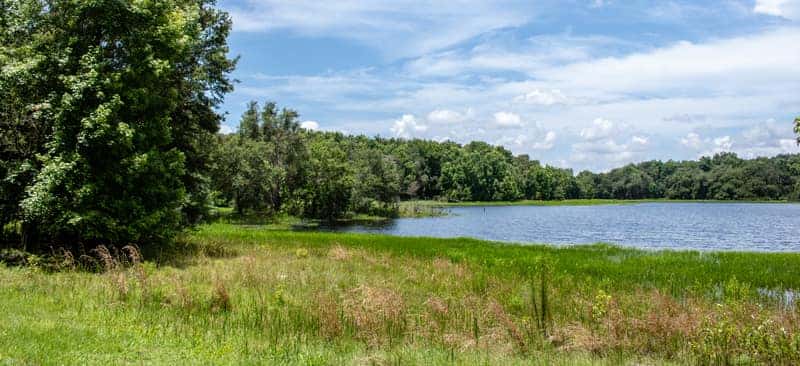 Continuing into West Central Florida, the Withlacoochee State Forest—near the town of Brooksville—is within an easy drive from such major hubs as Orlando, Tampa and Gainesville.  The park offers moderate and beginner trails for drivers of Range Rovers and other 4WD vehicles.
Trails for ATV or OHV Traffic are located in the Croom Motorcycle Area, a 2,600-acre facility permitted only for motorcycles and all-terrain vehicles (ATVs).  The area, however, is also abundant with dedicated hiking, biking and horseback riding trails.
Several day-use facilities are located in the forest that provide areas for picnicking and wildlife viewing. For longer stays, there are many other Recreation and Camping Facilities.
Everything you need to know about off-roading in this and other Florida State Forests can be found here.
Redneck Mud Park
44570 Bermont Road, Punta Gorda, FL 33982   Phone: (239) 823-3542
Heading into Southwest Florida, our next stop is the Redneck Mud Park, in rural Charlotte County.
While it technically enjoys a Punta Gorda address, the park is actually several miles east of this quaint coastal hamlet—closer to the county's rural eastern border.  In its earlier days, the park was known as Redneck Yacht Club.
Indeed, what was once an ordinary potato farm is now a sprawling entertainment complex whose 880+ acres are wholly dedicated to family fun involving four-wheeling.  If you are looking to replicate the peaceful seclusion you enjoyed while off-roading in Florida's state and national forests, this is not the place to do it!
Only open to the public for scheduled weekend events, admission price includes access to four mud holes; and several trails for those who prefer a relaxing jaunt through the woods.  Most of these trails will accommodate ATVs, Side x Sides, and smaller trucks and Range Rovers.  Additionally, admission generally includes concerts on the main stage and primitive camping at several different campgrounds, which usually remain high and dry—even during the summer rainy season.
Be sure to consult the park's web site for the rules and regulations governing all visitors to the park; as well as for answers to frequently asked questions.
Be advised, that in the early days of the COVID-19 pandemic, the Mud Park cancelled or cut back on hosting events—such as mega truck races and country music concerts—that typically draw masses of spectators; and, per CDC guidelines, had limited the overall number of people admitted to the park.
However, with the re-opening of Florida, it appears that the park has eased up on these restrictions.  Large, crowd-pleasing events—where social distancing and mask wearing are virtually impossible to enforce—are back on the calendar; and have occurred as recently as mid-January.  Moreover, a massive 3-day spring break event is planned in mid-March.  Thus, while a visit to this action-packed park is a must for fun-loving four-wheelers of all ages, we recommend keeping it on your list of things to do after the pandemic recedes.
Lazy Springs Recreation Park
9592 State Road 82, Felda, Florida 33930   Phone: (239) 206-9119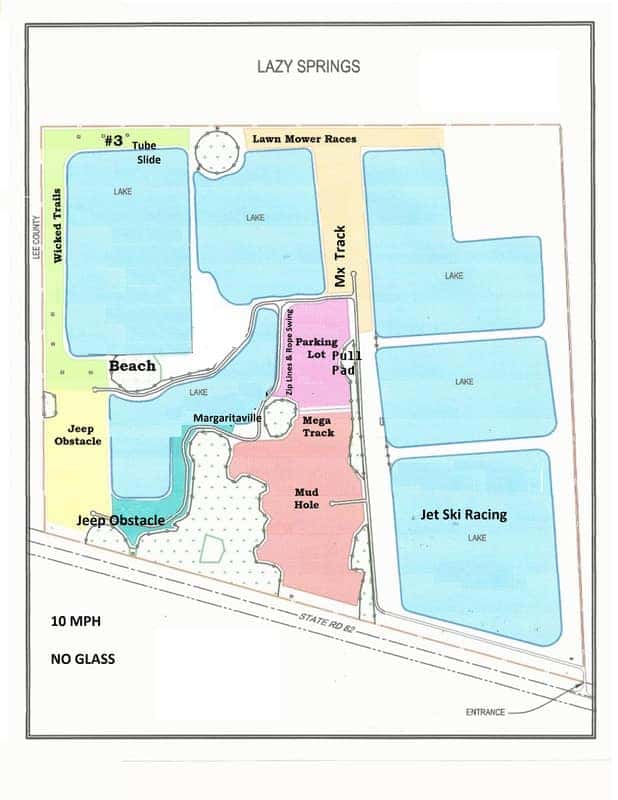 Moving south again and east of Ft. Myers—into the extreme southwest corner of Hendry County where it bumps up against Lee and Collier Counties—you will find Lazy Springs Recreation Park.
Although roughly half the size, Lazy Springs is not unlike Redneck Mud Park, except that it is open every weekend with regular hours; and is less reliant on large crowd-pleasing events.  Therefore, you have a better chance of observing the recommended CDC guidelines for safe social distancing.
In addition to four-wheeling through several mud pits—and up over steep mounds of dirt and rock—the park's menu of outdoor activities includes motocross, fishing, water skiing, wave-riding, zip-lining and primitive camping.
Big Cypress National Preserve
33100 Tamiami Trail E, Ochopee, FL 34141   Phone: (239) 695-2000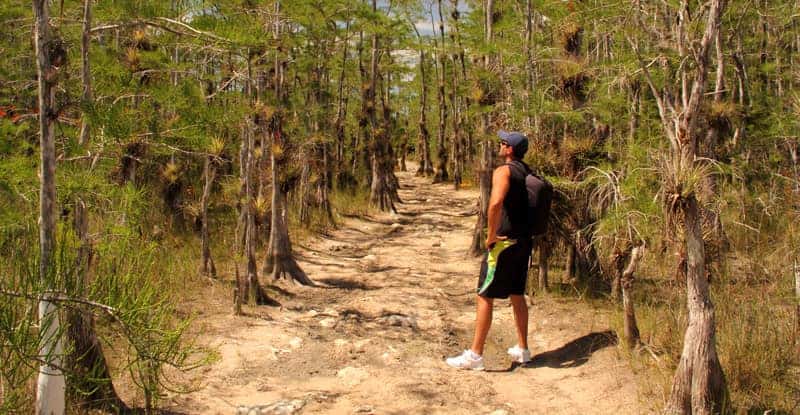 The southernmost (and final) stop on our off-roading tour is Big Cypress National Preserve , adjacent to the western edge of the majestic Florida Everglades.
Although highly unlikely, it is worth mentioning that while you may encounter bears in North Florida's forests and preserves, here in the vastness of the Everglades and Big Cypress you are more likely to spot the elusive Florida panther roaming the pinelands, hardwood hammocks, and cypress swamps of its native habitat.  Nearby, the Florida Panther National Wildlife Refuge and its neighboring Fakahatchee Strand State Preserve are also potential places for a big cat sighting.    Best times of day tend to be dusk and dawn when panthers are most active.
Currently there are 278 miles of primary trails, which begin at designated access points. Secondary trails–which branch off the primaries and lead to more backcountry areas—have been closed due to pending litigation surrounding off-road vehicle access.
Please note that permits are required for every off-road vehicle or watercraft entering the backcountry.
Permits are issued at the Off-Road Vehicle Office, which is located at 52105 Tamiami Trail East; and open Friday, Saturday, and Sunday from 9:00 am until 3:30 pm for appointments only.  The park strongly advises you to call ahead before bringing your vehicle in.