Bring On the Bacon: The Best Breakfast Spots in Lakewood Ranch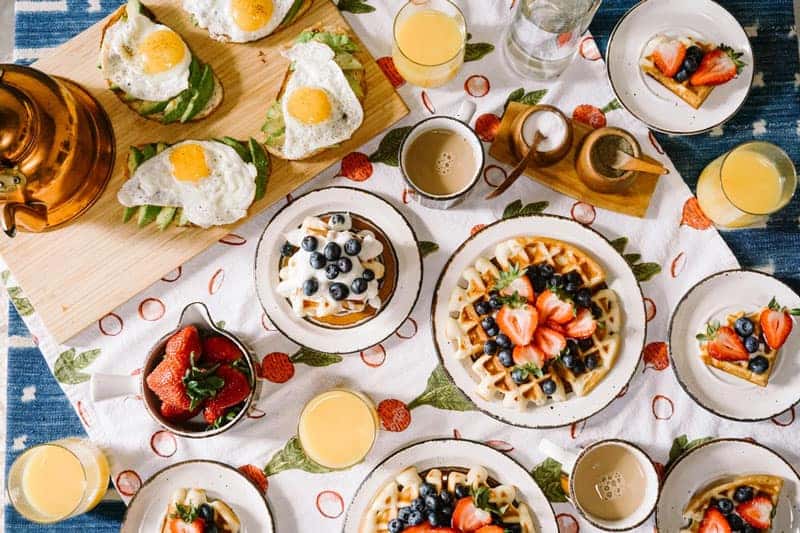 If you're like us, then you love throwing open the windows on a breezy Sunday morning, brewing up a pot of coffee, and waiting for the rest of the family to rise with the shine. Once everyone's ready to shimmy, it's out the door for a hearty breakfast. We particularly love this ritual down here in the Lakewood Ranch/Sarasota area.
Below, you'll find our favorite selections of cafes and restaurants. We've got you covered with everything from beignets, to crepes, to avocado to toast, to smoked salmon scrambles. It's the best way to fuel up the family before you fuel up your Rover and hit the road. Get ready to get hungry.
Another Broken Egg Cafe
How adorable is their name? That's what encouraged us to stop by one Saturday morning. Over on Exchange Way, you'll find a delightful menu including beignets, french toast, crab omelets, chocolate Belgian waffles, biscuits and gravy, and more. You definitely want to bring your appetite when you come here. Have you ever feasted on lemon blueberry goat cheese pancakes? You should… You definitely should and Another Broken Egg is the best place to kickstart your tastebuds.
If you're leaning more toward brunch than breakfast, their Abe Famous Infused Mary is the bloody Mary to end all Bloody Marys.
Keke's Breakfast Cafe
Located in University Town Center, this is a great option if you are planning on doing some shopping later in the day and want to start with a healthy breakfast!
If you're looking for something unique, look no further. Keke's Cafe features cream cheese and fruit stuffed french toast, which is a must try! They also feature all of the normal breakfast fare, as well as an option to create your own breakfast a la carte!
Paris Bistrot
Located on Lakewood Main Street, you'll find Paris Bistrot, rich with ambiance from head to toe.
Unsurprisingly, there are crepes on their menu and that's absolutely what you should go for. We order this every time because we know they're the real deal. This hotspot has been family owned and operated since 2008 and the owners use recipes handed down from their grandmother! Honestly, everything here is soaked in rich, creamy delight.
They also have what's called the Croissant Breakfast. You'll savor a croissant with two eggs, mozzarella cheese, your choice of meat, tomatoes, and smoked salmon. We know that's something we could never concoct back home, so it's our backup plan when we don't dive onto the crepe situation wholeheartedly.
Station 400 Main Street
Also on Lakewood Main Street, this is a lovely option if you're focusing on a vegetarian or vegan lifestyle. (That's not to say you can't get a mean serving of corned beef hash, though.)
Everything at Station 400 is fresh, from their eggs to their sandwich breads. In fact, you can really go wild by designing your own omelet. Their hash browns are fantastic, too, so you might want to look at their Hash and Eggs. Beyond all that goodness, our personal favorite is the Smoked Salmon Scramble on Toast. We're talking melted brie, avocado, arugula, and dill cream. Is there a better way to kickstart your day before soaking up the sun and the sea?
The Granary
Over on Lakewood Ranch Blvd, we have our friends at The Granary. Without question, our go-to is their poached eggs. These eggs are loaded with creaminess, bacon, tomatoes, peppers, and more. Just thinking about them makes us long for breakfast. Okay, with that out of the way, we have to urge you from breakfast mode into brunch mode.
See if you can hold off on your coffee fix in order to make it to brunch at The Granary. They have this amazing avocado crab salad that dances in delight alongside a mimosa or two. In truth, The Granary gets everything right, from breakfast, to brunch, to lunch. You can't go wrong with a single item on their menu. But, if we had it our way, it'd be poached eggs and avocado crab salad.
First Watch
This puts you a little bit further out toward the beach in Bradenton. But, we simply had to include this on our list. We're 100% positive you're going to want to hop in your new Range Rover and use this as your pitstop to some fun and sun. What you'll want to do at First Watch is make room for some glorious carbs. Their Floridian French Toast is our personal favorite. It's thick; it's fluffy; the fruit is fresh; the maple syrup is warm.
They also have a ton of healthy alternatives. Their avocado toast is made to perfection. They also have this lovely superfood bowl that will fuel your body with tons of beachside energy. Another healthy fan favorite is their power wrap. You'll enjoy egg whites, turkey, spinach, and house-roasted Crimini mushrooms. It's delightful. Without question, First Watch is the best fueling station around.
Best Breakfast Spots for a Sunday Drive
There you have it. These are our top picks for the best breakfast spots when you want to take the family on a Sunday morning drive. And there's no better definition of "joy ride" than the ride your loved ones will experience inside one of our Rovers. We offer luxury and performance inside everyone one of our new and pre-owned vehicles. Beyond that, we offer accessible financing that's good for everyone's budget.
Come check out our extensive inventory of models. You can't beat our price tags when it comes to pre-owned Land Rovers and Range Rovers. We're located over on Clark Road in Sarasota. Why not swing on by for a test ride or two? We'd love to make your life easy like Sunday morning.