Choose Your Adventure: 6 Questions to Ask to Find the Best Land Rover for You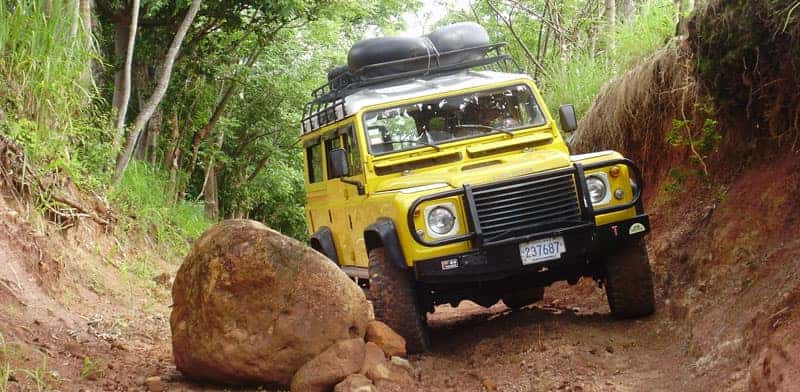 Buying a Land Rover means you are about to own a vehicle with a long-standing tradition of luxury and class.
It means you'll be getting a vehicle that not only looks stylish on the outside, but offers a thrilling on and off-road experience.
It also means you'll be getting a vehicle that has the latest innovations in comfort, audio, navigation, and safety features. And this is only talking about the features that come standard with a Land Rover. It isn't even including the add-on options customers can choose from to further customize their Land Rovers.
With so many options to choose from and factors to weigh, how can you choose the best Land Rover for you?
A review of these six questions should narrow down your choices in finding your perfect Land Rover match.
How Much Do I Prioritize Power?
Let's start with the issue of power.
If you're buying a Land Rover, there is a good chance you're hoping to get the James Bond effect. The world's most famous fictional spy not only looks good but when it's time to get the job done, you know he's ready to pack a punch.
The best Land Rover model when it comes to sheer performance is the new Range Rover Sport SVR.
This performance SUV comes packed with a 575 horsepower 5.0L V8 engine. This translates to acceleration capabilities of 0-60 mph in 4.3 seconds and a top speed rating of 176 mph.
Land Rover's SVR Dynamic Response technology allows this vehicle to turn and corner flatter and faster than any other Land Rover model. This, along with the SVR sport suspension, delivers an overall improved comfort and handling experience.
The hood, grill, and bumper of the SVR are built to optimize engine and brake cooling, offering more sustained performance.
How Much Do I Value Safety Features?
Safety is of great importance to any driver. The safety of yourself, your family, and other drivers and pedestrians along your path should always be a priority.
All Land Rovers come with world-class safety features. This being the case, how can you choose the right model for you if safety is your greatest concern? Also, how can you do so without having to break the bank on the highest-priced Land Rover models?
Consider the newest Land Rover Discovery. This luxury SUV has been awarded a five-star safety rating by the Euro NCAP, Europe's globally-recognized organization for vehicle safety testing.
One of the great features that contributed to this rating is the integrated Driver Condition Monitor. This system monitors factors such as braking, acceleration, and steering to detect potential driver fatigue. If it feels you are experiencing this, it will recommend you take a break.
The 360-degree Surround Camera System offers detection of the vehicle's entire surroundings. This assists with lane changes, parking, and exiting of blind junctions.
Another great safety feature is the Autonomous Emergency Braking system. This system detects obstructions, pedestrians, or stoppages ahead. If the vehicle detects the distance between you and one of these obstacles as getting too close, it can apply this emergency braking system, even to a full stop.
These are just a few of the many features that make the Land Rover Discovery a great fit for you if safety is your top priority.
How High-Tech of a Vehicle am I Looking for?
If you're a tech geek, then you can drool all day over some of the features included in Land Rover's model lineup.
Of the most tech-integrated of the Land Rover model lineup is the classic Land Rover Range Rover. This model comes packed with an incredible array of standard and optional technological features.
Just some of the features that come standard with the Range Rover include:
The 13 speaker Meridian sound system
Lane departure warning
Emergency braking
InControl Touch Pro Duo infotainment system
Cruise control and speed limiter
Front and rear parking aid
360-degree surroundings sensors
And so much more!
How Important are Efficiency and Eco-Friendliness to me?
At the 2017 JLR Tech Fest in London, Ralf Speth, CEO of JLR (Jaguar Land Rover), made a commitment to electrification for new Land Rover models. He announced that from 2020 on, the full lineup of Land Rover models would come with their own electrified options. This means incorporating hybrid, plug-in hybrid, and fully electric models across that lineup.
If you're looking for enhanced efficiency end eco-friendly capabilities, look no further than the new 2019 Range Rover Sport P400e. This is JLR's first plug-in hybrid model.
This hybrid performance SUV comes with a 2.0L turbocharged four-cylinder engine combined with a compact electric motor. This electric motor is powered by a 13.1-kilowatt-hour lithium-ion battery pack that allows it to travel up to 31 miles on electric power alone.
Though efficiency and going green may be a top priority for you, this doesn't mean you have to sacrifice performance. This hybrid powertrain still cranks out 398 horsepower and 472 foot-pounds of torque.
How Important is Overall Practicality to Me?
You love style and performance. You also are a normal person with a family, job, and everyday chores and errands to do.
In this case, how can you find a Land Rover which is a perfect marriage of the two?
If practicality is at the top of your priority list, the Land Rover Discovery is a great option for you. The interior of this model is extremely spacious, featuring three rows of seating. Each row offers excellent head and legroom for the whole family.
With 26 miles per gallon in the diesel model, this makes for a great overall luxury-performance SUV.
What's the Best Land Rover for My Budget?
Not every vehicle in Land Rover's lineup of vehicles is for everyone's budget. That doesn't mean you still can't get your hands on one of these luxury-performance SUVs.
Though a top-of-the-line Range Rover SVAutobiography Dynamic Sport model can start at over $177,000, you can still get your hands on a brand new Land Rover for less than $50,000.
If this sounds more like your price range, check out the Range Rover Evoque.
This compact SUV offers many of the great safety and performance options of a higher-priced model. It also has a world-class cabin and optional performance engine that can crank out 286 horsepower.
With the Range Rover Evoque, you get all this starting around $48,000.
Meet Your Perfect Land Rover Match
Even if you still aren't sure what the best Land Rover for you is, we are here to help. Whether this is the case or you have exactly your next Land Rover in mind, get in contact with us and we'll get you one step closer to driving your perfect Land Rover match.
If you already have a Land Rover and want to learn more about its incredible array of features, check out our blog where you may just find the perfect answer to your question.